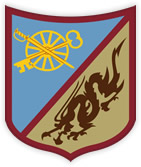 Welcome to the 23rd Quartermaster Brigade


Mission: The 23rd Quartermaster Brigade trains and educates sustainment Soldiers and develops sustainment Leaders that are Ready on Day 1, in a respectful and challenging environment IOT enable Multi-Domain Battle and Large Scale Combat Operations.
Vision: The Army's premier training Brigade providing sustainment professionals to the Joint Force.
Headquarters and Headquarters Company (HHC) 23rd QM BDE is responsible for providing command, control, administrative, discipline, logistical support, morale and welfare to Soldiers assigned/attached to HHC 23rd QM BDE, Quartermaster School, and AIT Graduate Holdovers. The company operates the Brigade consolidated arms room, and provide internal and external support to the 23d Quartermaster Brigade. HHC is also responsible for the reception, in-processing and onward integration of all 92 Series, 27D, and 88N AIT and MOS-T warriors into the training Companies.
The 266th Quartermaster Battalion trains, educates & develops Quartermaster and Transportation Soldiers prepared to immediately contribute to the Operational Force in support of Unified Land Operations (ULO) in a safe and secure environment: develops sustainment professionals capable of returning to the force to enable ULO while caring for Family teams. The Battalion partners with the Transportation school, the Joint Culinary Center of Excellence (JCCoE) and the Joint Mortuary Affairs Center.
The 262d Quartermaster Battalion trains and provides support to soldiers in Four AIT Training Departments: Petroleum and Water Department, Aerial Delivery and Field Services Department, and the Mortuary Affairs Center and Paralegal.
The 244th Quartermaster Battalion trains and provides support to Four Advanced Individual Training companies: Alpha, Golf, Papa and Whiskey companies are composed of soldiers training in the use of automated logistics systems, unit supply, and warehouse operations within the Logistics Training Department (LTD) - 92A and 92Y Soldiers.

23rd Quartermaster Brigade
Task Organization


This page was last updated on: February 20, 2019