Home - Schools & Units - Joint Mortuary Affairs Center
Joint Mortuary Affairs Center
(JMAC)
Mission
Trains, educates, and develops adaptive Mortuary Affairs (MA) professionals;
develops Army and select Joint MA doctrine in support of unified land
operations. On behalf of HQDA G4, JMAC executes Army responsibilities supporting the DoD MA Enterprise ensuring continuous, sustainable and global MA support.
History
The Quartermaster Corps has been responsible for the care of the dead since the Civil War, This mission, which used to be known as "Graves Registration", has evolved to include not only the search and recovery of remains on the battlefield, but to respond to any mass fatality situation. Army Mortuary Affairs Specialists have deployed around the world to assist in such places as Bosnia, Somalia, Croatia, the Middle East, Oklahoma City, Hurricane Andrew, Hurricane Katrina and most recently supported the Earthquake efforts in Haiti to recover American Citizens (AMCITS).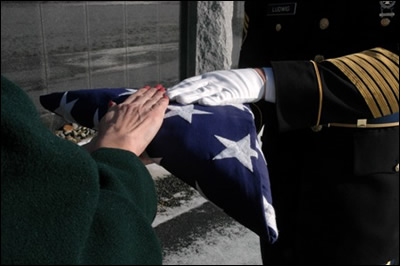 Identification of remains is an important responsibility, a process that has been perfected to the point that even remains that are discovered many years later, can often be identified. Burial of the dead, at one time a Quartermaster Corps responsibility, is conducted with honors befitting a fallen soldier. National cemeteries were first established in 1862 and now number over 100. Military cemeteries located overseas are maintained by the American Battle Monuments Commission and contain the American dead from World Wars I and II. Today, the Army's Mortuary Affairs Specialists are trained at the Quartermaster School at Ft. Lee. The 54th and 111th Quartermaster Companies, the Army's only active Mortuary Affairs units, deploy from Ft. Lee when called.
This duty to the fallen is owed on behalf of the Army and the Nation to the soldier, their comrades, and their family. It is a duty performed sadly but willingly.
Related Links
The Center for Army Lessons Learned rapidly collects, analyzes, disseminates, and archives OIL, TTP and operational records in order to facilitate rapid adaptation initiatives and conduct focused knowledge sharing and transfer that informs the Army and enables operationally based decision making, integration, and innovation throughout the Army and within the JIIM environment.
The help provided to the grieving families of deceased military personnel and the ceremonial paying of respect at their memorials provide the final demonstration of our Nation's gratitude to those who faithfully defended our country in peace and war.
Relevent Resources for CASCOM Proponent Units
The exhibit gallery, "Duty to the Fallen: The Army's Mortuary Mission" opened on November 20, 2000 as a cooperative effort between the U.S. Army Mortuary Affairs Center, Ft. Lee, VA, and the Quartermaster Museum.
Sustainment Knowledge Network
Points of Contacts
Contact JMAC for all Current Mortuary Affairs Operations, Training Development, Equipment and Initiative inquiries.
Joint Mortuary Affairs Center (JMAC)
1840 Quartermaster Road
Bldg, 7143
Fort Gregg-Adams, VA 23801
JMAC Email

Director

COMM: (804) 734-5381
DSN: 687-5381
FAX: 687-4758 (DSN)

Executive Officer

COMM: (804) 734-3831
DSN: 687-3831

Sergeant Major

COMM: (804) 734-4673
DSN: 687-4673

Director: Training & Development

COMM: (804) 734-3674
DSN: 687-3674
---
Information for Veteran Family Members
The attached word document (button below) provides family members of veterans with agencies/resources available that can assist in providing information related to: past conflicts, research of case files, request for military service records, veteran's benefits, burials, memorials, monuments and commemoration, identification procedures for past conflicts as well as National Cemeteries.
Additional assistance and related organizational links for services and information may be provided at the individual agency websites.
This page was last updated on: November 22, 2023