Water Training Division (WTD)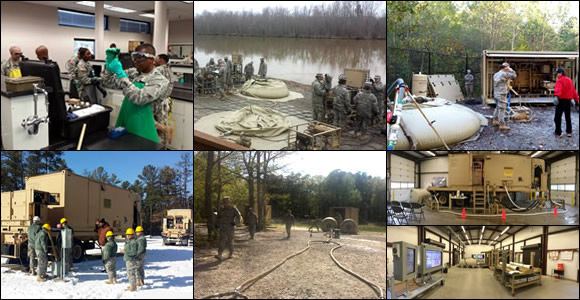 Mission:
The mission of the Water Training Division (WTD) is to provide initial entry water training (technical and tactical) to the Water Treatment Specialist (92W10), Advanced Individual Training (AIT), for Active Army, Army Reserve, and National Guard soldiers.

(NOTE for MOS-T soldiers: It is highly encouraged that MOS-T personnel be provided the means of acquiring transportation or be allowed to drive their own POV while temporarily located at Fort Lee, VA. While in a trainee environment, the Water Training Division is not responsible for transportation of MOS-T's to and from our training sites reference AR 350-6.)

Additionally, the Division provides technical briefs and/or equipment and training area support for the Petroleum Water Officer Course (PWOC), 923A QM Technical Warrant Office Basic and Advance Course, Quartermaster Basic Officer Leaders Course (QM-BOLC), Logistics Captains Career Course (LOG C3), and Captains Career Course - Reserve Component (CCC-RC). The Division also serves as subject matter experts (SME) for Water Units/Agencies worldwide, assists with doctrine development, operational force readiness items, and requirements which help satisfy water requirements for U.S. Forces globally.


History:
Water treatment training had been conducted under the direction of the Engineer School, Fort Belvoir, Virginia. In 1981, the decision was made to transfer proponency to the Quartermaster School and combine career management fields with petroleum because water was a liquid logistics function. Final transfer was completed in September 1984 and training began at Fort Lee, Virginia. The first Water Purification class under the Quartermaster School graduated 19 December 1984.
Facilities:
This Division has five geographically dispersed water training areas, which provide for varied training. The 41st street site simulates wellhead water production operations; the two Bailey's Creek sites allow for production from a small water source; the Appomattox River site allows for production from a large water source; and the Military in the Field site provides training on storage and distribution operations.
The AGC is a major subordinate command under the Army Corps of Engineers. AGC coordinates, integrates, and synchronizes geospatial information requirements and standards across the Army. When it comes to water, AGC's expertise encompasses hydrological algorithms and decision aids; systems for hydro reasoning and management; ground, surface, and man-made hydrological data capture, production, management, analysis, & distribution; hydrological model visualization; electronic navigation; and water management systems.


- Click Here for 92W Course Information -
This page was last updated on: February 20, 2019