The 266th Quartermaster Battalion
Mission: Train, educate, & develops sustainment Soldiers in a safe and secure environment; Ready on Day One to contribute to the Operational Force enabling Multi-Domain Operations during Large Scale Combat, while caring for Soldiers and Families.

Vision: The 266th Quartermaster Battalion provides combat ready, Logistics Warriors that are well-trained and disciplined, while creating a positive environment that fosters dignity and respect for all with active leadership, team building and community involvement.

The 266th Quartermaster Battalion Trains, educates & develops Quartermaster and Transportation Soldiers with five companies (4 AIT & 1 Transportation Support Company):
Bravo CO, Fort Lee, VA - 92G Culinary Specialist


Tango CO, Fort Lee, VA - 92G Culinary Specialist


Mike CO, Fort Lee, VA - 88N Transportation Management Coordinator and 92Mortuary Affairs Specialist


Echo CO, Joint Base Langley Eustis, VA. - 88H-Cargo Specialist MOS, 88K-Watercraft Operator, 88L-Watercraft Engineer, 88U-Rail Operations


508th Transportation Company – Training Support
The Battalion Head Quarters is located on Fort Lee, VA., and is assigned under the 23rd Quartermaster Brigade. Training is conducted in coordination with the Quartermaster Corps, Transportation Corps, Joint Culinary Center of Excellence, and Joint Mortuary Affairs Center.

BATTALION COMMANDER AND COMMAND SERGEANT MAJOR'S WELCOME

Welcome Soldiers, Families, and friends to the 266th Quartermaster Battalion, 23rd Quartermaster Brigade website. The battalion has a long and prestigious history. Currently, the mission of the battalion is to supply the Army with well-trained Food Service Specialists (92G), Mortuary Affairs Specialist (92M), Transportation Management Coordinators (88N), and other low-density Transportation Corps Soldiers (88L, 88K, 88H, 88P, and 88U).
The intent and purpose of this site is to provide useful information pertaining to the mission, task, and purpose of the 266th Quartermaster Battalion and its subordinate units. Additional information regarding Fort Lee facilities, the Quartermaster Corps, and other points of interest are available by clicking on any of the links to the right.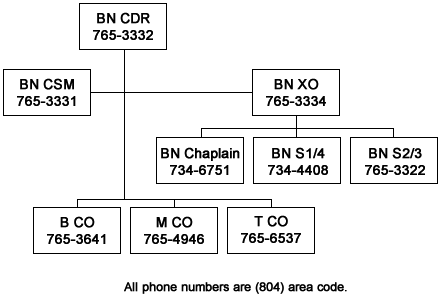 This page was last updated on: February 25, 2019