Previous Quartermaster Commandants


Brigadier General Mark A. Bellini
49th Quartermaster School Commandant
August 2005 - October 2007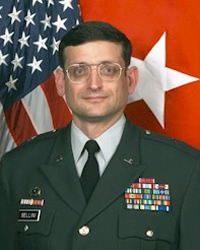 A native of Bethel Park, Pennsylvania, Brigadier General Mark Bellini was commissioned as a Second Lieutenant in the regular Army in 1979 following graduation from Edinboro University of Pennsylvania where he received a bachelor's degree in Economics.
Brigadier General Bellini's first assignment was platoon leader, 40th Supply and Services Company, 43d Corps Support Group, Fort Carson, Colorado. Following that he was assigned as the Battalion S-4 and Property Book Officer for the 52d Combat Engineer Battalion (Heavy). His next three duty positions were at Fort Lee, Virginia, following graduation from the Quartermaster Officers Advanced Course. These assignments included Action Officer, Office of the Quartermaster General; Commander, Company P, 262d Quartermaster Battalion, and Aide-de-Camp to the 39th Quartermaster General of the US Army.
Brigadier General Bellini transferred to Germany and served in the 3d Armored Division, 54th Forward Support Battalion, Friedberg, Germany, where he commanded Company A and Headquarters Detachment, and later served as the Battalion Support Operations Officer.
Brigadier General Bellini spent the next two years at the Command and General Staff College, Fort Leavenworth, Kansas while attending the Command and General Staff Officers' Course and the Advanced Military Studies Program, School of Advanced Military Studies.
After his studies, he served as a G-3 War Plans Officer for the 4th Infantry Division (Mechanized), Fort Carson, Colorado, followed by a deployment to Somalia as Battalion Executive Officer, 68th Corps Support Battalion. His next assignment was in Naples, Italy, at Headquarters, Allied Forces Southern Europe as Chief of the Plans, Logistics Division/CJ4. During this assignment, BG Bellini deployed to the former Republic of Yugoslavia as Chief of Plans, CJ4 of NATO's Peace Implementation Force (IFOR).
Brigadier General Bellini then commanded the 27th Main Support Battalion, 1st Cavalry Division, Fort Hood, Texas. Following command, he attended the United States Army War College in Carlisle, Pennsylvania. After graduation he joined the staff and faculty as Director, Military Strategy in the Department of National Security and Strategy.
Brigadier General Bellini then served as the Commander of the 1st Infantry Division Support Command (DISCOM), Kitzingen, Germany; while there, he deployed to Turkey in support of Operation Iraqi Freedom as the Army Forces Turkey G-4. He then was assigned to the US Army Materiel Command as the Deputy Chief of Staff. His last assignment was as Deputy Commanding General, 21st Theater Support Command.
In addition to a bachelor's degree, Brigadier General Bellini holds a master's degree in Business Administration, a master's degree in Military Arts and Science (Theater Operations), and a master's degree in Strategic Studies. He has also attended the German Military's Higher Command and Staff Seminar at the Fuhrungs Academy, Hamburg, Germany.
His awards and decorations, among others, include the Legion of Merit (with oak leaf cluster), Bronze Star Medal, Defense Meritorious Service Medal, Meritorious Service Medal (with five oak leaf clusters), Joint Service Commendation Medal (with oak leaf cluster), Army Commendation Medal (with oak leaf cluster).
General Mark A. Bellini became the Commanding General of the United States Army Quartermaster Center and School and the 49th Quartermaster General of the Army from 11 August 2005 to 26 October 2007.
General Bellini was inducted as Distinguished Member of the Quartermaster Regiment in 2005.
This page was last updated on: November 30, 2020