Home - Command Group - QM Leadership - Quartermaster Commandant
Quartermaster Commandant
Colonel Jin H. Pak
Quartermaster Commandant | June 2023 - Present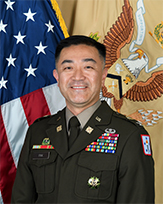 Colonel Jin H. Pak assumed the duties as the Quartermaster Commandant 02 June 2023. Born in South Korea. He immigrated to the United States at the age of six and grew up in Queens, New York. COL Pak received his commission into the Transportation Corps from the United States Military Academy in 1994.
During more than 29 years of service, COL Pak has been afforded leadership opportunities and experiences with the 28th Transportation Battalion (Germany/Balkans); 3d Armored Cavalry Regiment and 68th Corps Support Battalion (Fort Carson); 3d Infantry Brigade Combat Team, 1st Infantry Division (Fort Cavazos); and 2d Infantry Division (Republic of Korea). His assignments at the tactical level include Truck Platoon Leader, Company Executive Officer, Detachment Commander, Regimental Transportation Officer, Company Commander, Brigade S4, Battalion Executive Officer, Battalion Commander, and Transportation Brigade Commander.
COL Pak's combat tours include deployments to Bosnia in support of Operation Joint Endeavor as the Regimental Transportation Officer with 3d Cavalry Regiment; and in RC-East Afghanistan, in support of Operation Enduring Freedom as the Brigade Support Battalion Executive Officer with the 3d Infantry Brigade Combat Team, 1st Infantry Division.
Other significant assignments include selection as an Assistant Professor for International Relations and Department Executive Officer with the Department of Social Sciences at West Point; Military Assistant to the Office of the Deputy Chief of Staff, G-4 HQDA; Chief of Combined Plans, UCJ-5 Directorate Combined Forces Command, Republic of Korea; Assistant Deputy Chief of Staff, G-4, Forces Command; Commanding General's Initiative Group, Army Materiel Command; and Executive Officer to the Commanding General, Army Materiel Command.
A graduate of the Transportation Basic Course and Combined Logistics Captain's Career Course, COL Pak is also a graduate of the Combined Arms and Services Staff School, Command and General Staff College, the Kennedy School of Government at Harvard University, and the Joint Advanced Warfighting School. His awards and decorations include the Legion of Merit (with two oak leaf cluster), the Bronze Star Medal, the Defense Superior Service Medal, the Meritorious Service Medal (with four oak leaf clusters), the Joint Service Commendation Medal, the Army Commendation Medal (with four oak leaf clusters), the Joint Service Achievement Medal, the Army Achievement Medal, the Parachutist Badge, and the Army Staff Badge.
This page was last updated on: December 6, 2023