Previous Quartermaster Commandants


Brigadier General Jesse R. Cross
50th Quartermaster School Commandant
October 2007 - November 2010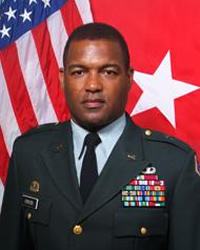 Brigadier General Cross is a graduate of West Texas State University with a Bachelor of Business Administration Degree in Marketing and a Master's Degree in Logistics Management from Florida Institute of Technology. He was commissioned a Second Lieutenant, Quartermaster Corps through ROTC in 1979. He is a graduate of the Quartermaster Basic and Advanced Courses, Command and General Staff College, and the War College.
Brigadier General Cross' past assignments include: Platoon Leader, Property Book Officer, and Shop Officer, 225th Maintenance Company, Fort Sill, Oklahoma; Supply Control Officer, 2nd Supply and Transportation Battalion, 2nd Infantry Division, Camp Casey, Korea; Commander, Headquarters and Supply Company, 3rd Support Battalion, 9th Infantry Division, Fort Lewis, Washington; Assistant Professor of Military Science at Texas Tech University, Lubbock, Texas; Supply Management Officer, Materiel Management Center, Fort Hood, Texas; Support Operations Officer and Executive Officer, 3rd Support Battalion, 3rd Infantry Division, Schweinfurt, Germany; Logistics Staff Officer, Directorate of Logistics, U.S. Special Operations Command, MacDill Air Force Base, Florida; Commander, 125th Forward Support Battalion, 1st Armor Division, Fort Riley, Kansas; Senior Forward Support Battalion Observer Controller, Combat Maneuver Training Center, Hohenfels, Germany; Support Operations Officer, 3D Corps Support Command, Wiesbaden, Germany; Commander, 200th Materiel Management Center, Kaiserslautern, Germany; Plans Chief, J4, United States Central Command, MacDill, Air Force Base, Florida; and Commander of the Defense Supply Center Philadelphia, Defense Logistics Agency.
Awards and decorations include: Defense Superior Service Medal with Oak Leaf Cluster, Legion of Merit, Bronze Star Medal, Defense Meritorious Service Medal, Meritorious Service Medal with 4 Oak Leaf Clusters, Army Commendation Medal, and the Parachutist Badge.
General Cross was inducted as a Distinguished Member of the Quartermaster Regiment in 2006 and was awarded the Distinguished Order of Saint Martin in 2003.
This page was last updated on: November 30, 2020