Previous Quartermaster Commandants


Major General John L. Dewitt
28th Quartermaster School Commandant
February 1930 - March 1934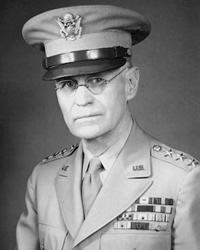 John Lesesne DeWitt was born at Fort Sidney, Nebraska on January 9, 1880. An appointment as a infantry Second Lieutenant on October 10, 1898. There followed twenty years of assignments within the Infantry as well as details to as Ordnance, Engineer, Signal, Commissary and Quartermaster officer in various postings in the US and overseas.
In 1918 he went overseas with the 42d Infantry Division. As a Lieutenant Colonel, he was detailed to the General Staff, Headquarters, American Expeditionary Force (AEF). In July 1918, he was promoted to Colonel and continued to serve as G-4 (Supply) for the 1st Army. For his exceptional service in World War I he was awarded the Distinguished Service Medal.
From 1919 to 1930, DeWitt served in a number of War Department positions to include Assistant Commandant of the General Staff College (1928-30); Chief of the Storage and Issue Branch, Supply Division; G-4 War Plans Division and Acting Assistant Chief of Staff, War Plans Division. As a Brigadier General commanded the 1st Brigade of the 1st Infantry Division and the 1st Brigade of the Philippine Division.
On February 5, 1930, General DeWitt became the Quartermaster General. In addition to the assumption of the routine duties of his new assignment, he was also responsible for completing and executing the plans for the Gold Star Pilgrimage to Europe of mothers and widows of the World War I dead. This unprecedented undertaking made possible by an act of Congress and delegated to the Office of The Quartermaster General, necessitated an efficient organization of emergency personnel as-well as sympathetic and judicious leadership. This task stretched over a period of four years. DeWitt was also responsible for outfitting 275,000 men for the Civilian Conservation Corps within a period of approximately seven weeks the quickest peace time mobilization on record.
After serving as Quartermaster General, DeWitt returned to the Infantry. In 1937, he was named commander of the Philippine Division and in July of that year he became Commandant of the Army War College. In December 1939, was promoted to Lieutenant General and commanded the 4th Army and the 9th Corps Area (Western Coast).
He commanded the Western Defense Command between December 5, 1939, and June 15, 1943. During this time he supervised the evacuation of Japanese and Japanese-American residents from the Western Coast and directed combat operations against the Japanese troops in the Aleutians. In September 1943, he became the Commandant of the Army and Navy Staff College in Washington. He retired from the Army in 1947.
General DeWitt was appointed to the rank of full General on 1954 by Congress for his service in World War II.
He died of a heart attack at the age of 82 in Washington, D.C. on June 20, 1962. He is buried in Section 2 of Arlington National Cemetery.
This page was last updated on: November 30, 2020