Previous Quartermaster Commandants


Brigadier General John E. O'neil IV
52nd Quartermaster School Commandant
August 2012 - June 2014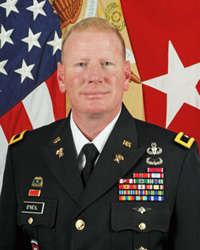 Brigader General John O'Neil, a native of Peabody, Massachusetts received his commission as a Quartermaster Officer from the Providence College ROTC program in 1986 as a Distinguished Military Graduate. He holds a Bachelor of Science in Accounting from Providence College, a Master's degree in Business Management from Saint Mary College, and a Master's degree in Strategic Studies from the Army War College. He has served in a variety of command and staff positions in support of Light, Airborne, Air Assault and Mechanized forces. Operational deployments include Operation Enduring Freedom (OEF) and Operation Iraqi Freedom (OIF) as a Support Battalion Commander and OEF as a Sustainment Brigade Commander.
Assignment summary includes Platoon Leader, Company Commander and Battalion S-4, 124th Transportation, Battalion, 45th Support Group (Corps), Schofield Barracks, HI; Assistant S-3 DISCOM; Forward Support Battalion (FSB) Support Operations (SPO) and FSB S3, 101st Airborne Division (Air Assault) Support Command, Fort Campbell, KY; Aide de Camp and Corps Aerial Delivery Officer, 1st Corps Support Command, Fort Bragg, NC; DISCOM S2/3, 2nd Infantry Division (Mechanized) Support Command, Camp Casey, Republic of Korea; FSB SPO, Materiel Officer (MATO) and Chief, Division Materiel Management Center (DMMC), 3rd Infantry Division (Mechanized) Support Command, Fort Stewart, GA; Battalion Commander and Division G4, 82nd Airborne Division, Fort Bragg, NC; Chief, Strategy and Plans Division, HQDA, DCS G-4, Pentagon, Washington, D.C.; Commander, 82nd Sustainment Brigade, Fort Bragg, NC; and Executive Officer to the Commanding General, US Army Materiel Command, Redstone Arsenal, AL.
Brigadier General O'Neil's awards include the Legion of Merit (OLC), Bronze Star Medal (OLC), Defense Meritorious Service Medal, the Meritorious Service Medal (Six OLC), Army Commendation Medal (OLC), Army Achievement Medal (Two OLC), National Defense Service Medal, Afghanistan Campaign Medal, Iraq Campaign Medal, Global War on Terrorism Service Medal, the Korea Defense Service Medal, and the NATO Medal. He is a Master Parachutist and holds the Air Assault Badge and Parachute Rigger Badge.

This page was last updated on: November 30, 2020