Previous Quartermaster Commandants


Brigadier General George H. Weeks
20th Quartermaster School Commandant
February 1897 - February 1898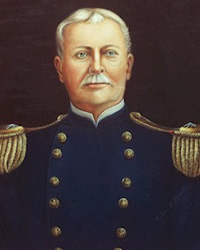 George H. Weeks was born at Gilford, New Hampshire, on February 3, 1834. Following the usual public school education, George obtained an appointment to West Point at the age of 19. He graduated from the Academy in 1857, brevetted second lieutenant of Artillery, and stationed for a year and a half at Ft. Monroe, Va., at the Artillery School for Practice. Assigned to the 4th Artillery as a second lieutenant on February 10, 1859, he was sent on frontier duty to Minnesota where he participated in the expedition to Yellow Medicine River.
At the outbreak of the Civil War he was transferred East, promoted to first lieutenant on May 14, and assigned to garrison duty first at Ft. McHenry and then at Ft. Washington in Maryland during the first year of the war. Part of this time he served as regimental quartermaster and for three months was adjutant. In the meantime, he made application for appointment either as a commissary of subsistence or as an assistant quartermaster with the rank of captain.
He was successful and on March 24, 1862, was assigned to the Quartermaster's Department, becoming Chief Quartermaster of the 3rd Corps, Army of the Potomac. He served approximately five months during the Virginia Peninsular Campaign. He was then placed in charge of the Hagerstown Depot which was responsible for supplying the Army of the Potomac during the Maryland Campaign. Early in 1863 Weeks was transferred to the depot at Albany, New York, where he remained until December 6, 1864. At that time he became Chief Quartermaster of the Northern District of New York with headquarters at Albany, an office he retained until the end of the war. For faithful and meritorious services during the war, he was brevetted major and lieutenant colonel.
In the closing months of 1865, Weeks was sent to the Pacific Coast as Chief Quartermaster and acting Chief of Commissariat of the Department of Columbia. For most of 1866 he served as Depot Quartermaster and Commissary at Ft. Vancouver, Washington, being transferred at the end of that year to San Francisco and made responsible for the clothing depot there.Weeks was relieved from duty in the summer of 1867 and transferred to Sitka as Chief Quartermaster of the District of Alaska, recently acquired by purchase from Russia. Upon completion of a two-year tour of duty, he was called into Washington to settle his accounts. He was then assigned as depot quartermaster first at St. Louis and then at Baltimore, serving two years at each station. In 1874 he was once more assigned as Depot Quartermaster at Vancouver for a four-year tour of duty, during the course of which he was promoted to major on May 29, 1876, after 14 years' service.
Before his tour was completed he was dispatched to Arizona as Chief Quartermaster of that Department on June 22, 1878, to bring order into a service that had "fallen into decay." He was successful in this task and, according to Meigs, was "more useful there, than ever before."
He was transferred to Ft. Leavenworth in June 1880 as Depot Quartermaster, and two years later he was sent to San Francisco where he remained in charge of the depot for five years. During that period he also served for several months as Chief Quartermaster of the Department of California and of the Division of the Pacific. In 1887 he was in the field in General O.O. Howard's expedition against the Nez Perces Indians.
In November of that year he was transferred to the East and assumed his new duties as Depot Quartermaster at New York City. He was promoted to lieutenant colonel and deputy quartermaster general of the Department the following year and to colonel and assistant quartermaster general on May 16, 1895. During this period he held various responsible posts in the Department.
At the direction of the Secretary of War, Weeks was nominated for appointment as Quartermaster General on February 16, 1897. Following a year's service he retired a few months before his 64th birthday and after 40 years of service in the Army. Weeks continued to live in Washington after his retirement until his death on September 13, 1905. The funeral ceremony was kept simple in accordance with his wishes, and he was buried at Arlington National Cemetery.
This page was last updated on: December 1, 2020