Previous Quartermaster Commandants


Brigadier General Scott G. West
48th Quartermaster School Commandant
May 2003 - August 2005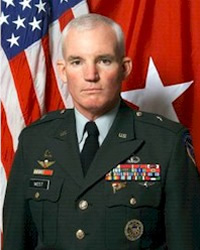 Brigadier General Scott G. West served as the Commanding General of the United States Army Quartermaster Center and School and the 48th Quartermaster General of the Army from 16 May 2003 - 11 August 2005.
He was commissioned in the United States Army in June of 1976 following graduation from Eastern Washington University with a BA in History. His military education includes the Quartermaster Officer Basic and Advance Courses, Army Command and General Staff College and the Industrial College of the Armed Forces. His civilian education includes a MS in Logistics Management from Florida Institute of Technology and a MS in National Resource Management from the National Defense University.
BG West has held key leadership and staff positions in numerous units, including 1st Infantry Division (Mechanized), 2d Infantry Division, 2d Armored Cavalry Regiment, 1st Corps Support Command, 6th Infantry Division (Light) and 7th Infantry Division (Light). West served as the Division Parachute officer, 407th Supply and Transport Battalion (Golden Griffins), 82d Airborne Division during Operation Just Cause and as the Executive Officer of the Golden Griffins during Operation Desert Storm. Other assignments include Chief, Office of the Quartermaster General, Fort Lee, Virginia; Chief, Sustainment Division, Director for Logistics, Joint Chiefs of Staff, J4, the Pentagon, Washington DC; and Executive Officer to the Deputy Chief of Staff, G-4, United States Army.
BG West has had several command positions, including 706th Main Support Battalion, 6th Infantry Division, Fort Wainwright, Alaska; and the 46th Corps Support Group (Airborne) at Fort Bragg. Additionally, he commanded the Joint Logistics Command in Joint Task Force Aguila during humanitarian assistance operations in Central America following Hurricane Mitch in 1998-99.
During his assignment as Quartermaster General, BG West deployed to Iraq serving at the C-4, Multi-National Force-Iraq, during Operation Iraqi Freedom from July 2003 to July 2004.
His awards and decorations include the Distinguished Service Medal, Defense Superior Service Medal, Legion of Merit, Bronze Star (1st Oak Leaf Cluster), Parachute Rigger, Pathfinder and Master Parachutist Badges.
General West was inducted as Distinguished Member of the Quartermaster Regiment in 2003.
This page was last updated on: December 1, 2020