Home - JCCOE Home

Joint Culinary Center of Excellence (JCCoE)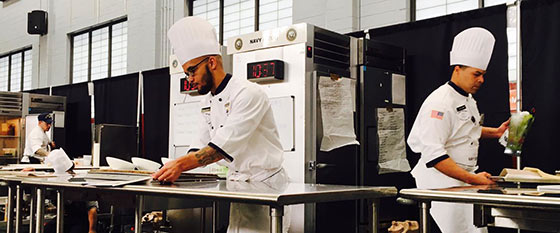 Mission
The JCCoE serves as the focal point for all Army Food Program issues, including lead organization for the Department of the Army (DA) G4 food program in doctrine development, policy and procedures, garrison, field, and subsistence supply operations. Advise, train, educate, and empower Department of Defense (DOD) culinary professionals in all facets of the DOD or Services Food Program through dynamic and learner centric training.
Serves as the Soldier advocate and executive agent for the entire Army Food Program including training and operations for garrison, field, and CONOPS feeding.
Develops new feeding concepts for the Army Food Program.
Develops standards for menus, nutrition and operational rations.
Writes regulations and technical/procedural publications.
Implements policies for both active and reserve components.
Establishes effective food safety, dining facility design, food service equipment and food service management oversight methods and principles.
Represents Army in the joint arena as a voting member in Department of Defense (DOD) Food Program Committees.
Evaluates current and proposed food systems; identifies and analyzes deficiencies and shortfalls; and seeks solutions to remedy these deficiencies and shortfalls.
Administers Army Food Program competition and recognition programs.
Trains enlisted Soldiers in the entire scope of the Army Food Program.
Vision
The premier Joint food service training institution and central focal point for the Armed Services in both entry-level and advanced culinary training; Corporate Headquarters and Quartermaster School Advisor for the Army Worldwide Food Service Program.
History
In February 1989, the Chief of Staff, Army directed the formation of the Army Center of Excellence, Subsistence (ACES) by merging two organizations: (1) the Directorate of Food Service, U.S. Army Troop Support Agency and (2) the Subsistence and Food Service Department, U.S. Army Quartermaster Center and School (QMC&S). ACES officially began with the completion of asset transfer on October 1, 1989 at Fort Gregg-Adams, Virginia. In September, 2009, ACES was re-aligned under the Sustainment Center of Excellence (SCoE) as the Joint Culinary Center of Excellence (JCCoE). The JCCoE is separated into three directorates: Army Center of Excellence, Subsistence Operations Directorate (ACES OD); Joint Culinary Training Directorate (JCTD) and the Special Programs Directorate (SPD).
JCCoE Organizational Structure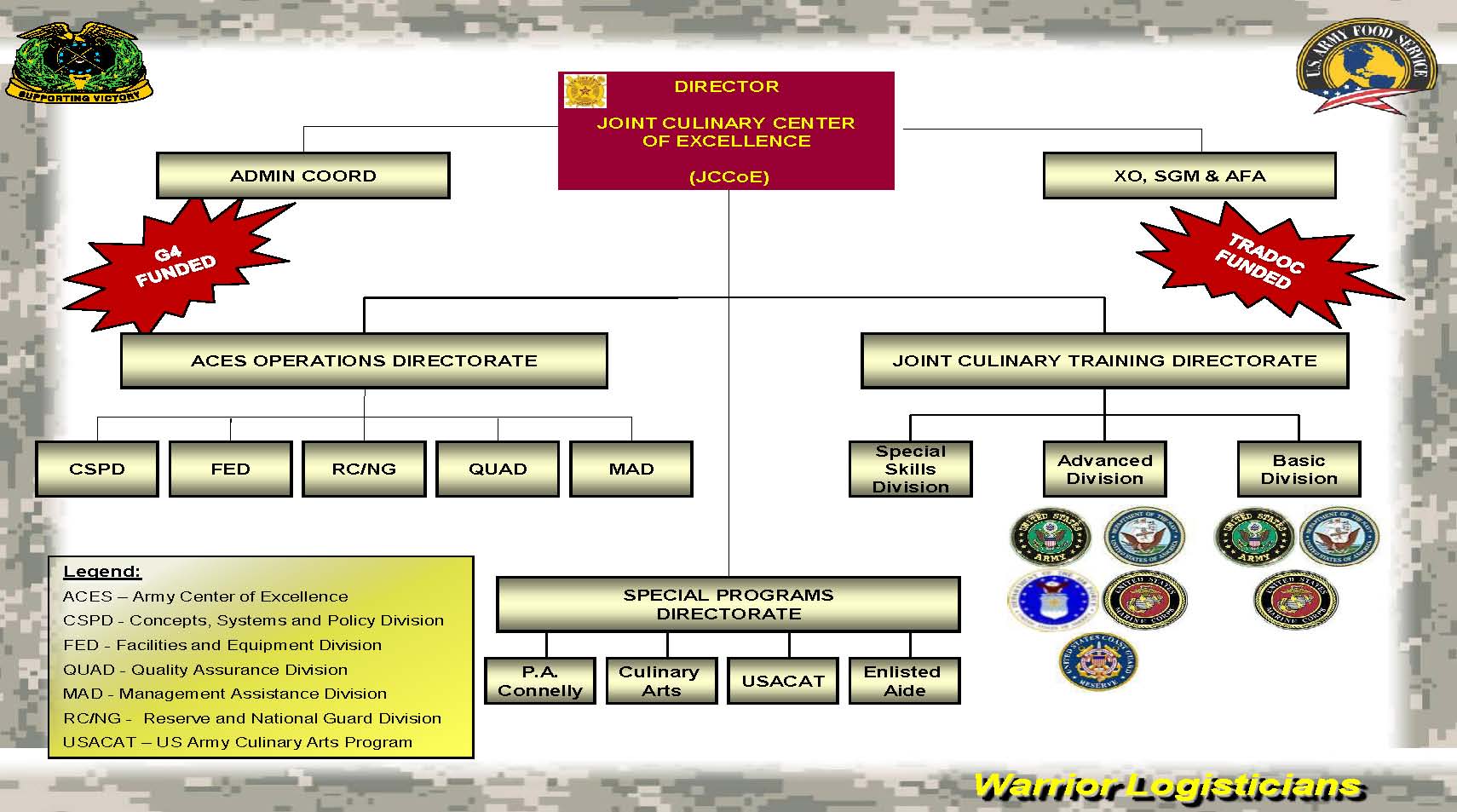 ACES Operations Directorate
Represents the Director, JCCoE, the Commanding General, USAQMS, the Commander, CASCOM, the Commander, TRADOC, and the HQDA ODCSLOG on issues involving subsistence management and feeding in both garrison and battlefield environments.
Concepts, Systems, and Policy Division
Quality Assurance Division
Management Assistance Division
Facilities and Equipment Division
Reserve Component Division
Special Programs Directorate
For DA DCSLOG, manages the DA International Food Service Executives Association, Philip A. Connelly Awards Program for Food Service Excellence.
U.S. Army Culinary Arts Program
Philip A. Connelly Awards Program
Management Assistance
Joint Culinary Training Directorate
Serves as the principal advisor to the Director, JCCoE, the Commander and to the DA DCSLOG on all issues involving food operations and subsistence management training.
Basic Food Service Training Division
Advanced Food Service Training Division
Enlisted Aide Training Course
Knowledge Sharing Portals
For online tools, knowledge sharing, training and collaboration, please visit our JCCoE portal on MilSuite or QM Blackboard below:
Blackboard Announcement
Food Service professionals, good day! As you know the JCCoE has several courses available on Blackboard tha can be taken. We have a new important AFMIS Certification Training course uploaded.
JCCoE Contact Information
This page was last updated on: November 2, 2023