2020 Quartermaster Corps Hall of Fame Inductees
The Quartermaster Corps Honors Program was created to recognize outstanding individuals and units (both past and present) who have helped fulfill the Corps' mission and have brought known credit to the Corps over the course of its long and proud history.
On 4 November 2021, Brigadier General Michelle K. Donahue, the 56th Quartermaster General and Commandant of the United States Army Quartermaster School officiated the Quartermaster Hall of Fame Ceremony—honoring those individuals selected for induction into the Quartermaster Hall of Fame from the 2020 Honors Board.
BG Donahue also conducted a change of Honorary Colonel, Chief Warrant Officer, Sergeant Major, and Civilian of the Corps. Lieutenant General Ray Mason, Retired was appointed as the Tenth Honorary Colonel of the Corps; Chief Warrant Officer Five, Karen L. Ortiz Retired as the Eighth Honorary Chief Warrant Officer of the Corps; Sergeant Major Joseph W. Brundy, Retired as the Ninth Honorary Sergeant Major of the Corps; and Dr. Ellen Pruett was appointed as the second Honorary Civilian of the Corps.
"Supporting Victory"!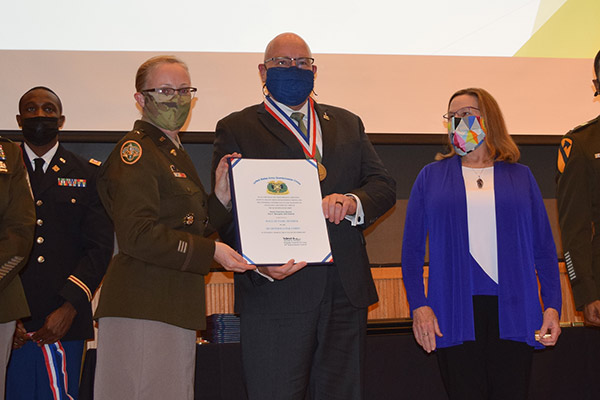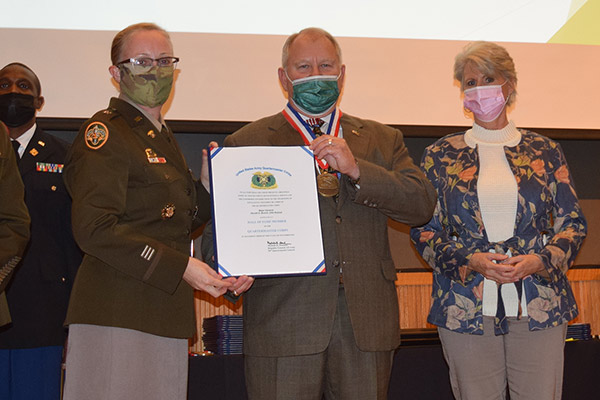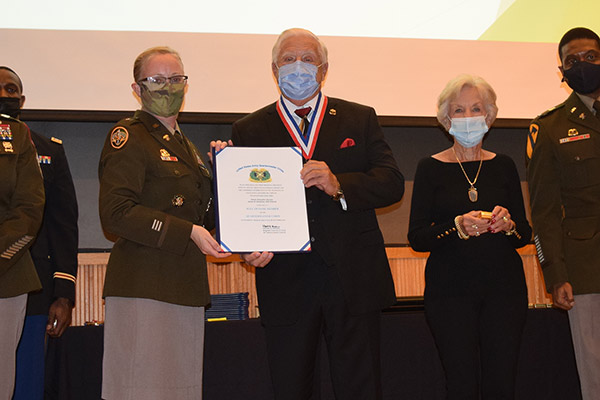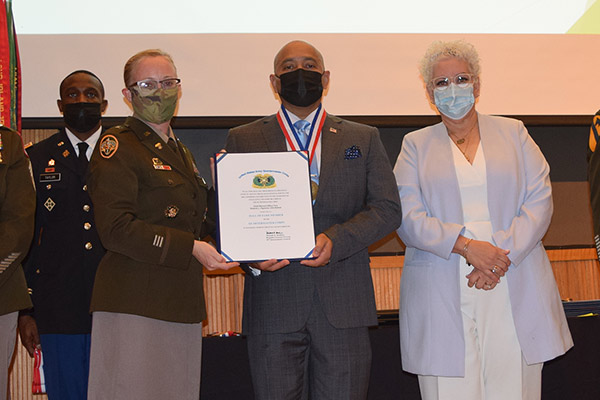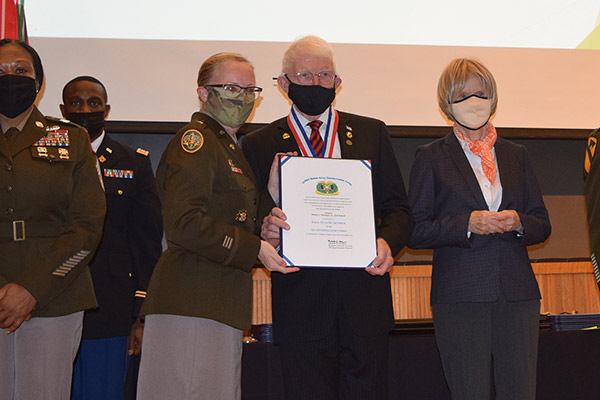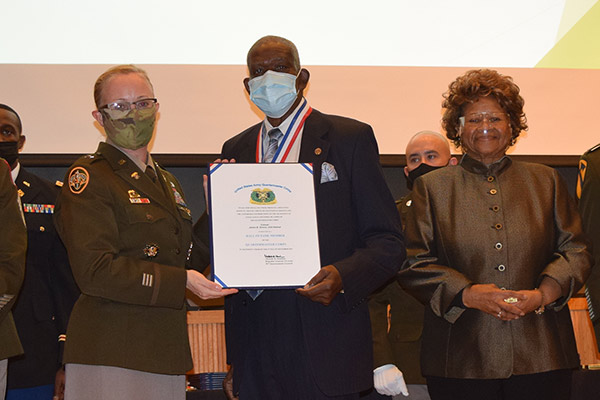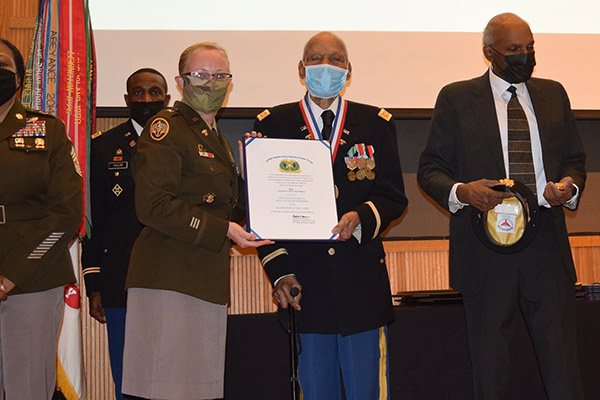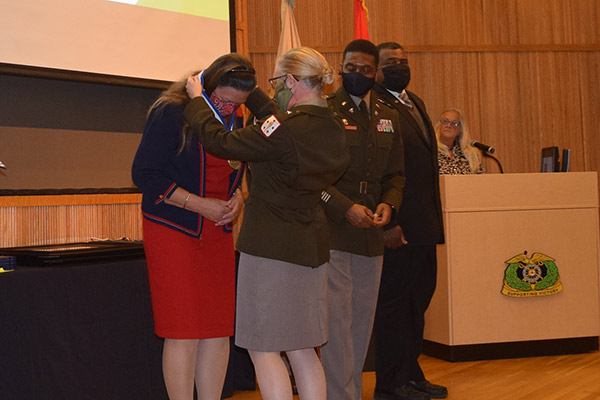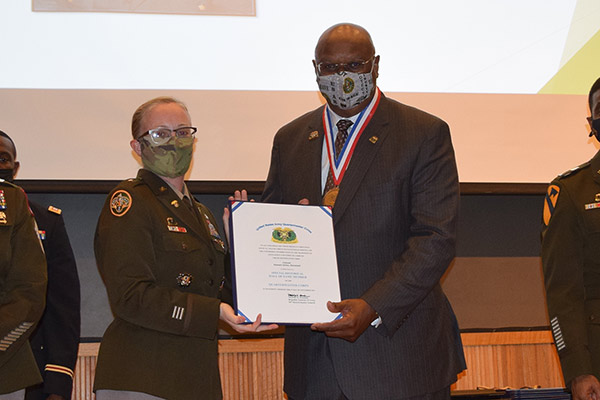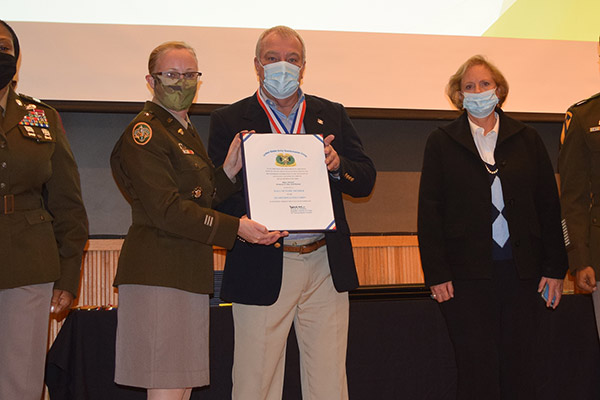 Hall of Fame (HOF)
The Quartermaster Hall of Fame award is the highest form of recognition the Corps offers. This much coveted award honors individuals who are judged to have made the most significant contributions to the overall history and traditions of the Quartermaster Corps. This year's Hall of Fame inductees are:

Lt. Gen. Larry D. Wyche
Maj. Gen. Harold G. Bunch
Maj. Gen. Michael K. Jelinski
Maj. Gen. Dempsey D. Kee
Brig. Gen. Richard B. Dix
Sen. Exec. Service Guy C. Beougher
Sen. Exec. Service James B. Emahisher
Col. Robert L. Barnes
Col. Joseph A. Brown
Col. David C. Clagett
Col. Alexander D. Davis
Col. William J. Flanagan, Jr.
Col. James B. Givens
Col. Glenn A. Israel
Col. William N. Patterson
Chief Warrant Officer 5 Pablo A. Brown
Chief Warrant Officer 5 Roberto L. Figueroa
Chief Warrant Officer 4 Cornelius B. Williams
Sgt. Maj. Raymond L. Arnold
Sgt. Maj. William Frey
Sgt. Maj. Frederick Jackson
Historical Inductees:
Col. Howard James, Deceased
Maj. Anthony Grant
2nd Lt. Leonard R. Wilkens
Ancient Order of Saint Martin
The Ancient Order of Saint Martin is the most distinguished of the three levels of the Quartermaster Patron Saint Program (administered by the association of Quartermasters Organization). The Ancient Order of Saint Martin recognizes the select few who stand above their brethren of the Distinguished Order and is reserved for those Quartermaster Soldiers and Civilians who have performed conspicuous long term service that singularly distinguishes themselves as contributors to the Quartermaster Corps.
Recipients:
Mrs. Nancy Bain
Sgt. Maj. Retired Dave Staples
Maj. Gen. Retired Richard E. Beale
---
Past Inductees can be viewed at the links below:
This page was last updated on: December 14, 2021