Honorary Colonel of the Corps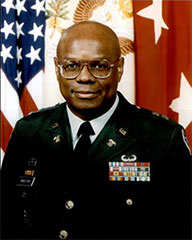 Major General, Retired
Hawthorne L. Proctor
Honorary Colonel of the Corps
June 2016 - present
Major General Hawthorne L. (Peet) Proctor, US Army Retired received his Commission in 1968 as a distinguished military graduate from North Carolina Agricultural and Technical State University where he earned a Bachelor's Degree in Agricultural Business. He received a Master's Degree in Public Administration from Central Michigan University in 1976. After entering the Army in 1969, his military schooling includes the Quartermaster Basic and Advanced Courses, the Command and General Staff College, the Army War College, and Executive Management Development Training at the University of California at Berkeley.
During his illustrious military career, he served as a Flag Officer as the Director of Plans and Operations, Office of the Deputy Chief of Staff for Logistics at the Pentagon; 26th Commander of the Defense Personnel Support Center and the first Commander of the Defense Supply Center, Philadelphia, Pennsylvania. He was subsequently assigned as the Deputy Chief of Staff for Logistics and Operations, US Army Materiel Command, Alexandria, Virginia and later went on to become the 46th Quartermaster General of the Army, Fort Lee, Virginia where he was responsible for the accession, training, leader development, equipment development and professional development for the Army's largest logistics branch consisting of some 126,000 service members in the Active and Reserve Components.
General Proctor culminated his career as the J3, Defense Logistics Agency, Fort Belvoir, Virginia in December 2003. His awards and decorations include the Distinguished Service Medal (2 awards), Defense Superior Service Medal, Legion of Merit (4 awards), Bronze Star Medal, Meritorious Service Medal (4 awards), Joint Services Commendation Medal and the Army Commendation Medal (3 awards). He is authorized to wear the General Staff Identification Badge and the Air Assault Badge. General Proctor retired from the Army in 2004 after 35 years of service.
This page was last updated on: September 14, 2021