Honorary Sergeant Major of the Corps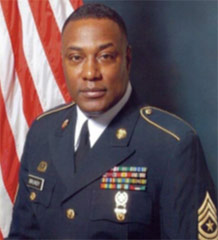 Sergeant Major
Joseph W. Brundy, Retired
Honorary Sergeant Major of the Corps
November 2021 - present
SGM Joseph W. Brundy III entered the United States Army on 1 Nov 77 and served the citizens of the United States and America's Army for more than 3 decades. He retired on 29 Feb 08 after 30 years in uniform and serving in the following notable positions, Quartermaster Corps Proponent Sergeant Major, Office of the Quartermaster General, Fort Lee, VA; Command Sergeant Major, 49th Special Troops Battalion, 49th Group, Fort Lee, VA; Command Sergeant Major (Forward), 55th Theater Support Command Materiel Management Center, Camp Henry, Korea; Sergeant Major, Support Operations, G-4, Eighth Army, Yongsan, Korea Senior Enlisted Advisor, US Army Records and Declassification Agency, Fort Belvoir, VA.
SGM Brundy's significant awards, decorations and recognitions include the Legion of Merit, Distinguished Member of the Quartermaster Regiment, Distinguished Order of St. Martin, Soldier of the Year for Fiscal Year 1984 (U.S. Army 5th Recruiting Brigade (Southwest), United States Army Recruiting Command, Fort Sam Houston, Texas – 1984; Leavenworth High School Military Hall of Fame Inductee – Feb 007 (Leavenworth, KS)
His combat and operational deployments include Desert Storm – Army Materiel Command, Dhahran, Saudi Arabia (Nov 91 – Mar 92), Delta Company, 2nd Medical Battalion, Camp Edwards, Republic of South Korea (1980-1981), Headquarters & Headquarters Company, 8th Army, Yongsan, Republic of South Korea (May 99 – May 2000), 55th Theater Support Command, Camp Henry, Republic of Korea (Sep 02 – Jul 03).
His education includes the Command Sergeant Major Course (24 Aug 2001), Sergeants Major Academy, (6 Jun 00), and Kansas State University (1975-1977).
SGM Brundy's current civilian occupation is Skills Development & Retention Team Manager/Control Account Manager, Northrop Grumman Corporation.
This page was last updated on: September 14, 2021