Command - OQMG - Regimental Office - Inductees
2023 Quartermaster Corps
Hall of Fame Inductees
2023 Quartermaster Corps Hall of Fame Inductees The Quartermaster Corps Honors Program was created to recognize outstanding individuals and units (both past and present) who have helped fulfill the Corps' mission and have brought known credit to the Corps over the course of its long and proud history.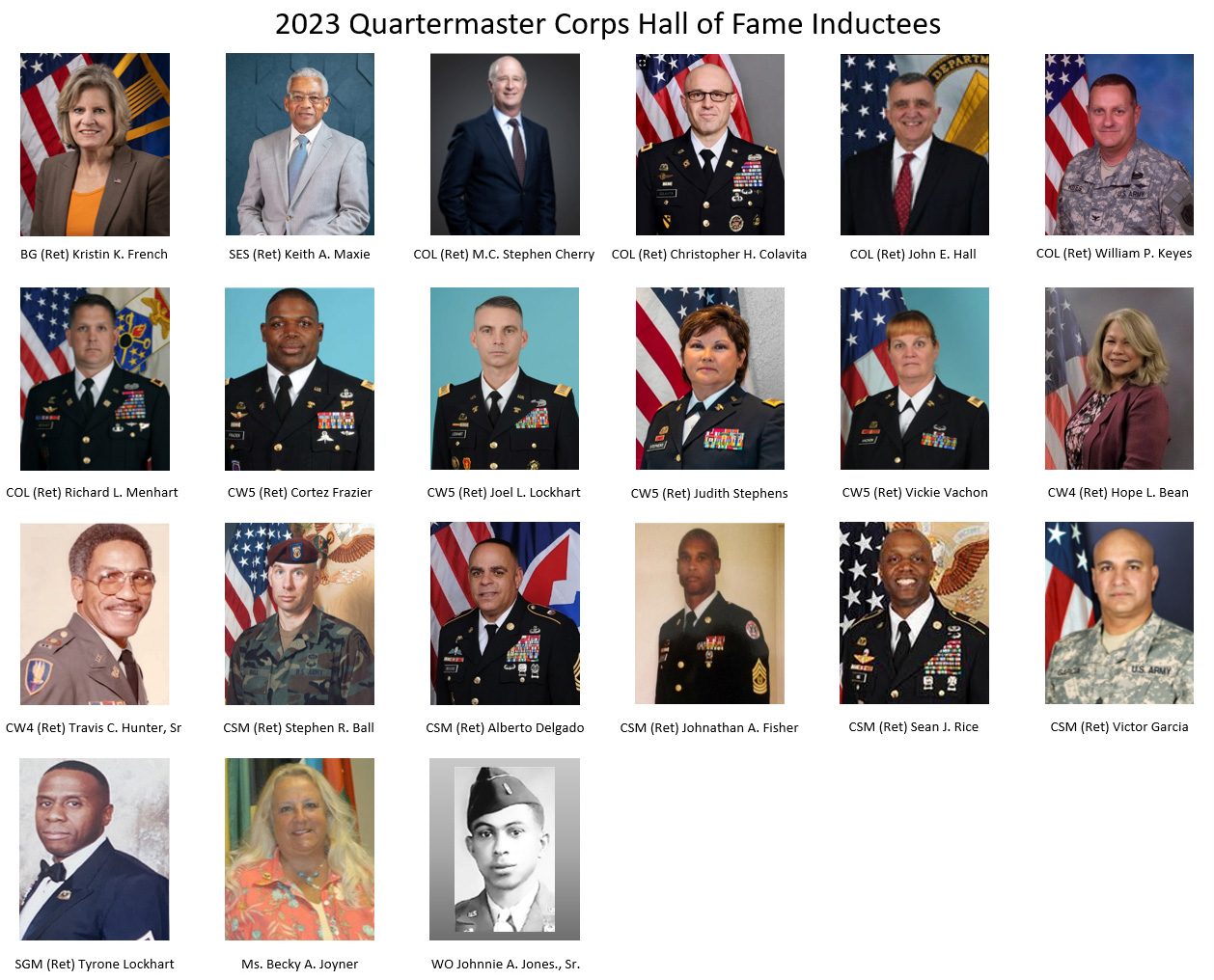 Hall of Fame
The Quartermaster Hall of Fame award is the highest form of recognition the Corps offers. This much coveted award honors individuals who are judged to have made the most significant contributions to the overall history and traditions of the Quartermaster Corps. This year's Hall of Fame inductees are:
BG (Ret) Kristin K. French
SES (Ret) Keith A. Maxie
COL (Ret) M.C. Stephen Cherry
COL (Ret) Christopher H. Colavita
COL (Ret) John E. Hall
COL (Ret) William P. Keyes
COL (Ret) Richard L. Menhart
CW5 (Ret) Cortez Frazier
CW5 (Ret) Joel L. Lockhart
CW5 (Ret) Judith Stephens
CW5 (Ret) Vickie Vachon
CW4 (Ret) Hope L. Bean
CW4 (Ret) Travis C. Hunter, Sr.
CSM (Ret) Stephen R. Ball
CSM (Ret) Alberto Delgado
CSM (Ret) Johnathan A. Fisher
CSM (Ret) Victor Garcia
CSM (Ret) Sean J. Rice
SGM (Ret) Tyrone Lockhart
Ms. Becky A. Joyner
Special Historical Hall of Fame Inductee
Warrant Officer Johnnie A. Jones, Sr.
Distinguished Members of The Corps
The Distinguished Member of the Corps award honors select individuals who have made "Distinguished Contributions to the Quartermaster Corps," and who, by virtue of prestige, status and experience, will assist in fostering pride and esprit, heritage and tradition. This year's distinguished inductees are:
CW5 (Ret) Alexander L. Brown
CW5 (Ret) Russell D. Campbell
CW5 (Ret) Princido Texidor
CW4 (Ret) Mary T. Barone
CW4 (Ret) Jeffery Ramsey
CW4 (Ret) Harold Whittington
SGM (Ret) Gorden Dove
SGM (Ret) Rodney Price
MSG (Ret) Calvin Williams
Mr. Samuel A. Burns (DAC Retired)
Mrs. Martha (Marty) S. Williams (DAC Retired)
Distinguished Unit of The Corps
The Distinguished Unit of the Corps award was introduced in 1993 to recognize outstanding units, past and present, that's made significant contributions to the Quartermaster Corps.
No nominations were submitted for this year's Distinguished Units of The Corps.
---
Additional Resources
Past Inductees can be viewed at the links below:
This page was last updated on: October 24, 2023